REPUMP • NYC
by REPUMP

Wed 29th August - Thu 30th August, 2018
6:00 PM - 2:00 AM
New York City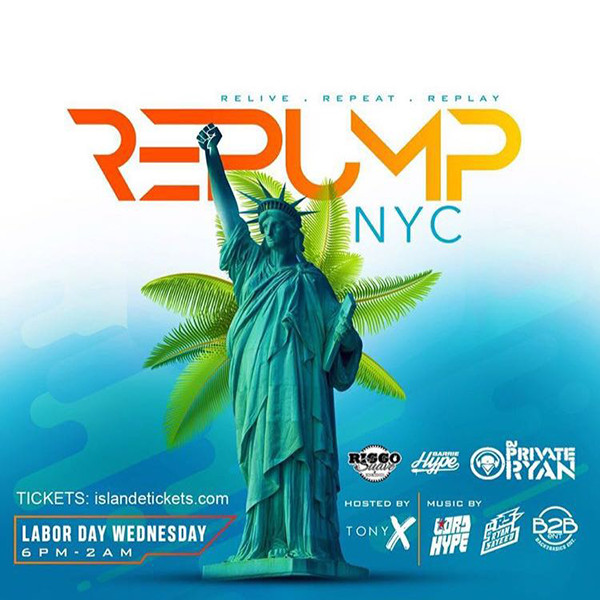 Description
• Relive • Replay • Repeat • Repump •
R E L I V E the Summer .
R E P L A Y the Vibes .
R E P E A T the Experience .
R E P U M P the Carnival Weekend !
LABOR DAY WEDNESDAY PRE CARNIVAL PUMP !!

Hosted By Tony X @iamtonycross on Labor Day Wednesday , Repump is an Exclusive Tropical Vibe to Kick Off New York City's Most Anticipated Caribbean Weekend with an After Work Twist and Amazing International DJ Cast . Stay Tuned as We Release The Elements Of This Premium Experience ..
HOSTED BY : TONY X
MUSIC BY :
PRIVATE RYAN @djprivateryan
BARRIE HYPE @barriehype
BACK 2 BASICS @b2bent
LORD HYPE @lordhype
RIGGO SUAVE @riggo2dworld
RYAN SAYEED @ryansayeed
MORE TO BE ANNOUNCED !!
REPUMP RULES
1 . Absolutely No Athletic Wear . Dresscode : Casual Chic .
2 . Pump Safely . No Drunken drama allowed.
3 . Must be 21+ to REPUMP !
4 . Any questions or concerns , please contact a REPUMP committee member .
#LaborDayWeekend #LaborDay2018 #NYC #StartDPump #StartDVibe #StartDAction #Relive #Replay #Repeat #REPUMP