DJ RENE BACK IN TIMES WEAR WHITE EDITION
by DJ Rene

Sat 9th July - Sun 10th July, 2022
8:00 PM - 2:00 AM
The Anchorage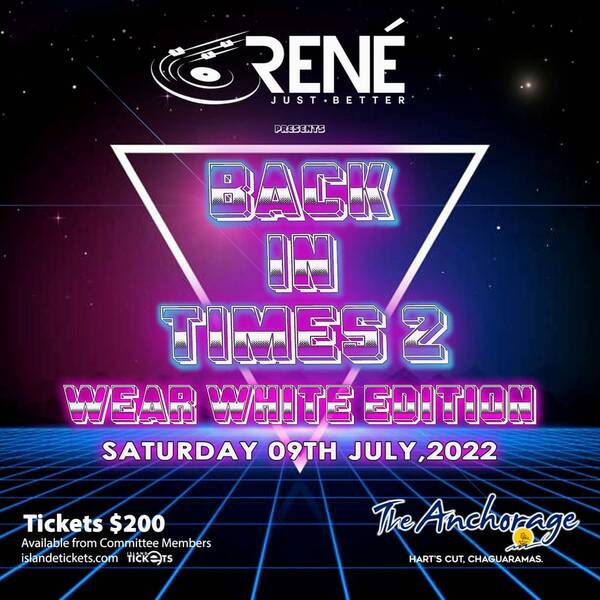 Description
You asked for it! DJ RENE BACK IN TMES II is happening on Saturday July 9 at The Anchorage, Chaguaramas from 8 p.m. till.
This is the WEAR WHITE EDITION, so dress accordingly.
Come listen to DJ Rene, Wayne Small aka DJ Joy Juice, DJ Scobie, DJ Tech & DJ Wayne playing some of the great music we all love. Come meet your friends in the party.
100 Special $150 Early Bird Tickets will be on sale only on-line at IslandETicket.com for a limited time. Take advantage as soon as possible.
Committee Members have physical $200 Tickets on sale:
Rene Ortiz aka DJ RENE
Marisa Cipriani-Ortiz - 620-9603
Fred Archer - 681-2887
Charmaine Cedeno Wiltshire
Rocky Maharaj (South) - 759-3346
Michelle Nunes
Tosca Vialva-Woodhams
Photo World @ Long Circular Mall - Suzette Sankar
Videotronix @ Valpark Plaza
DJ Wayne Rochard
DJ Scobie
DJ Tech
Wayne Small aka Joy Juice
Nadra Supersad
The Anchorage/Andrew Smith (Call First)
See the promo video on DJ Rene TNT You Tube Channel: https://youtu.be/bj8gexyF3ME
DJ Rene Facebook Event Link: https://tinyurl.com/DJRENEBACKINTIMESII
djrene, music, party, theanchorage, backintimes, goodvibes, goodlife, excitement, freinds, lovely, greattimes, classics, retro, djwayne, djscobie, djtech, joyjuice