Legends
by Woodford Cafe

Sun 31st July - Mon 1st August, 2022
8:00 PM - 3:00 AM
Woodford Cafe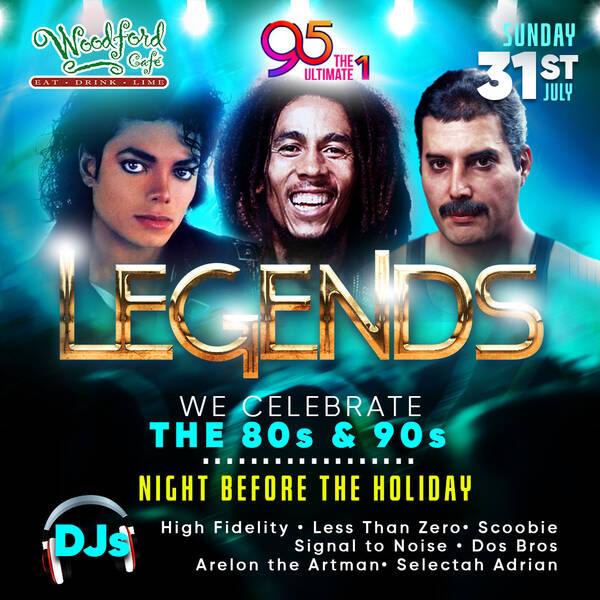 Description
Legends!!!!
It's time to get Legendary
On Sunday 31st July, the night before the holiday, all roads lead to the Legendary Woodford Cafe, as we celebrate the 80s & 90s with your favorite music Legends!
Tickets are available at Woodford Cafe, Signature Shoes in Grand Bazaar, Richards at West Mall, Wonderful World at C3 Center & Trincity Mall & at islandetickets.com
Your Legendary Dj Line Up: dj Scoobie, High Fidelity and Less Than Zero, Signal To Noise, Arelon The Artman, Selectah Adrian and your 95 djs: Dos Bros
Doors open at 8pm, so get there early and Enjoy 2 4 1 White Oak Rum & Black Label Rum, Carib, Stag, Pilsner & Carib Blue until 10pm
For more info & table bookings, call the Hotline at 672-0001! Also find the event on Woodford Cafe's pages on Facebook & Instagram @woodfordcafe.
Sunday 31st July, the night before the holiday, we head to Woodford Cafe in Price Plaza Chaguanas for Legends, as we celebrate the 80s and 90s!
And of course your official station is right here... 95 The Ultimate 1, and we will all be there!
Powered by 95 The Ultimate 1
Who's your favorite Legend?