Savage ft. Bunji Garlin
by Woodford Cafe

Sat 19th March - Sun 20th March, 2022
8:00 PM - 3:00 AM
Woodford Cafe Price Plaza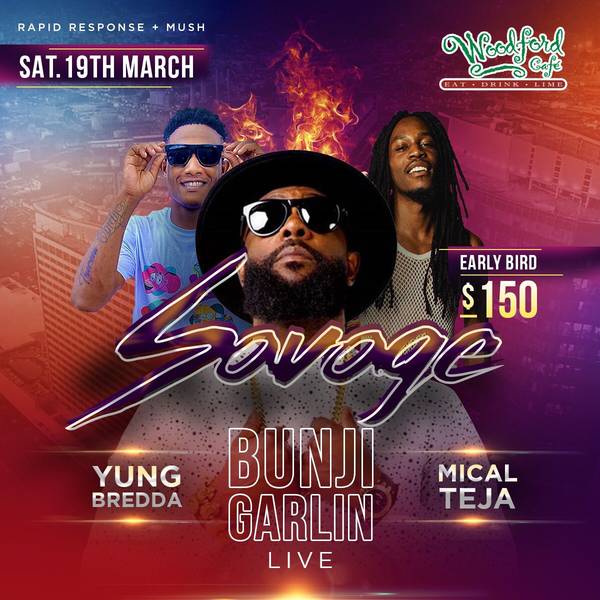 Description
Trinidad and Tobago!
FOR ONE NIGHT ONLY!
Saturday 19th March
The Iconic Woodford Café
Will be taken to the extreme
GET • READY • FOR
S A V A G E
Featuring for the first time
In over 2 years - The Viking
B U N J I G A R L I N 
Your Savage Special Guest -
MICAL TEJA
YUNG BREDDA
SALTY
AKEEM 5.0
POISON SOUNDS
SELECTAH KERRY
YO JERVAIS
DJ MERVYN
L A D I E S 
Make sure you step out #Savage
Dress to slay! 
Limited advance $150 tickets available now! Get them while stocks last.
For table reservations call 672-0001 or check us out on all popular social media platforms @WoodfordCafe
All safe zone protocols will be observed 
For more info, Call or WhatsApp 355-0150 / 701-2333 or link any Woodford Committee member
@bunjigarlin @micalteja @yungbreddaofficial @poisonsound_961 @selectahkerry @yojervais @rapidresponsesound @mushnic @bennyman25 @djmervyn @salty_711 @akeem5_0
#SavageTheEvent #WoodfordCafe #PricePlaza #Chaguanas #Trinidadnightlife #BunjiGarlinLive #Soca2022 #BunjiInWoodfordCafe